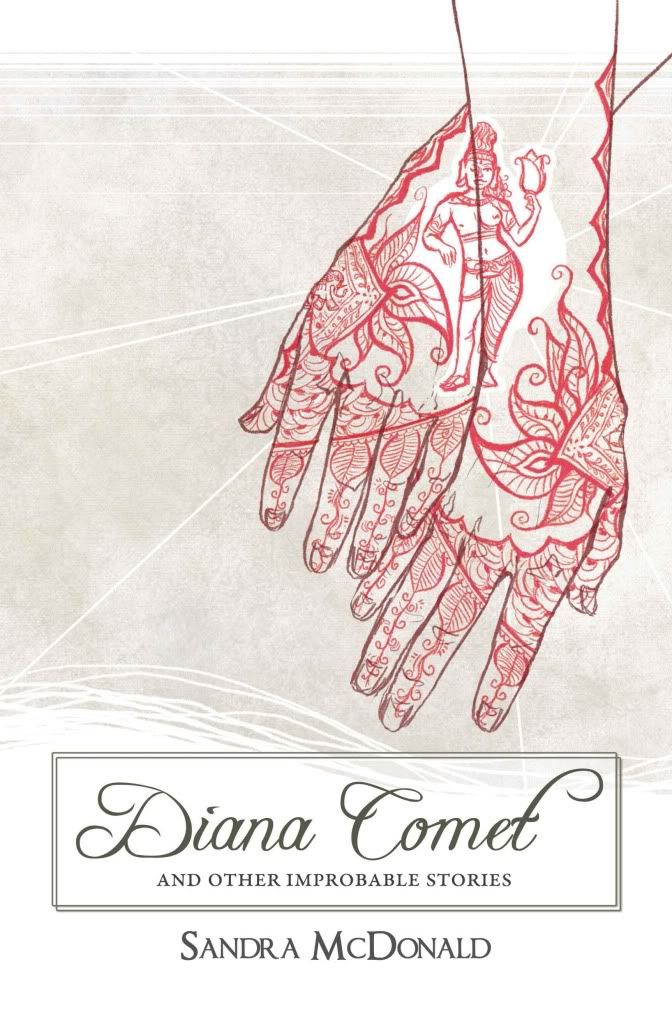 Diana Comet and Other Improbable Stories
(2010)
Written by:
Sandra McDonald
Genre: Short Stories/Fantasy
Pages: 282 (Trade Paperback)
The premise
: ganked from the back cover:
A writer of whimsy and passion, Sandra McDonald has collected her most evocative short fiction to offer readers in Diana Comet and Other Improbable Stories. A beautiful adventuress from the ancient city of New Dalli sets off to reclaim her missing lover. What secrets does she hide beneath her silk skirts? A gay cowboy flees the Great War in search of true love and the elusive undead poet Whit Waltman, but at what cost? A talking statue sends an abused boy spinning through a great metropolis, dodging pirates and search for a home. On these quests, you will meet macho firefighters, tiny fairies, collapsible musicians, lady devils and vengeful sea witches. These are stories to stir the heart and imagination.
My Rating
Must Have
: How can you say no to a collection that explores gender issues, sexuality issues, racism, and so much more? McDonald's book is a cross between Catherynne M. Valente's themes and Charles de Lint's world-building, which stories that really linger long after you're finished. While some are serious, some are whimsical, and all are unifying not just by themes, but by setting and characters. The stand-outs for me were "Diana Comet and the Lovesick Cowboy," "The Goddess and Lieutenant Teague" (really loved this one), "The Fireman's Fairy" (this is will make you sad), and "Kingdom Coming." I also loved the fake historical vibe to this collection, a kind of alternate history that isn't obviously alternate history, but rather a riff on our own. All in all, it's a great collection, and I'm thankful I got my hands on it. I really think this deserves to at LEAST make the Tiptree shortlist, because if it doesn't, I can't imagine what would.
Review style
: I have few notes and a ton of sticky tabs all over this book. I want to talk about the unifying element to each of these stories, some of the themes the book touches on, as well as single out which stories were really powerful for me. No spoilers (save for a teeny-tiny one that's clearly marked), so if you're interested in the full review at my LJ, just click the link below. As always, comments and discussion are most welcome. :)
REVIEW: Sandra McDonald's DIANA COMET AND OTHER IMPROBABLE STORIES
Happy Reading!
DON'T MISS OUT: Want a chance to win a free copy of the short story collection that deserves a Tiptree nod?
Diana Comet and Other Improbable Stories
by Sandra McDonald definitely fits the bill! Interested? Click
here
.
ALSO:
Book club selections @
calico_reaction
. Hop on over! We'd love to have you!
June:
Sunshine
by Robin McKinley
July:
Summon the Keeper
by Tanya Huff